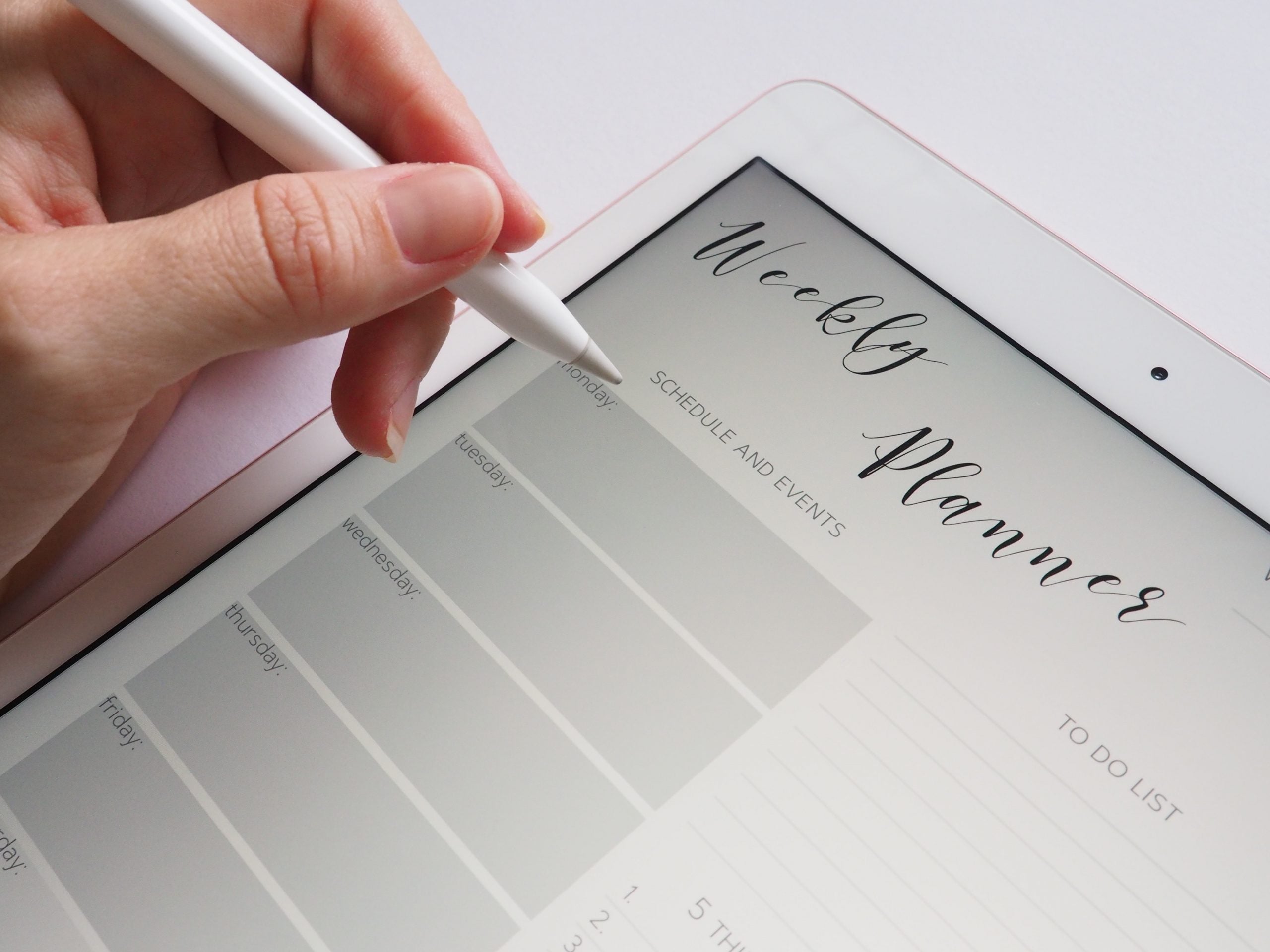 10 Ways to Use Your iPad to Stay Organized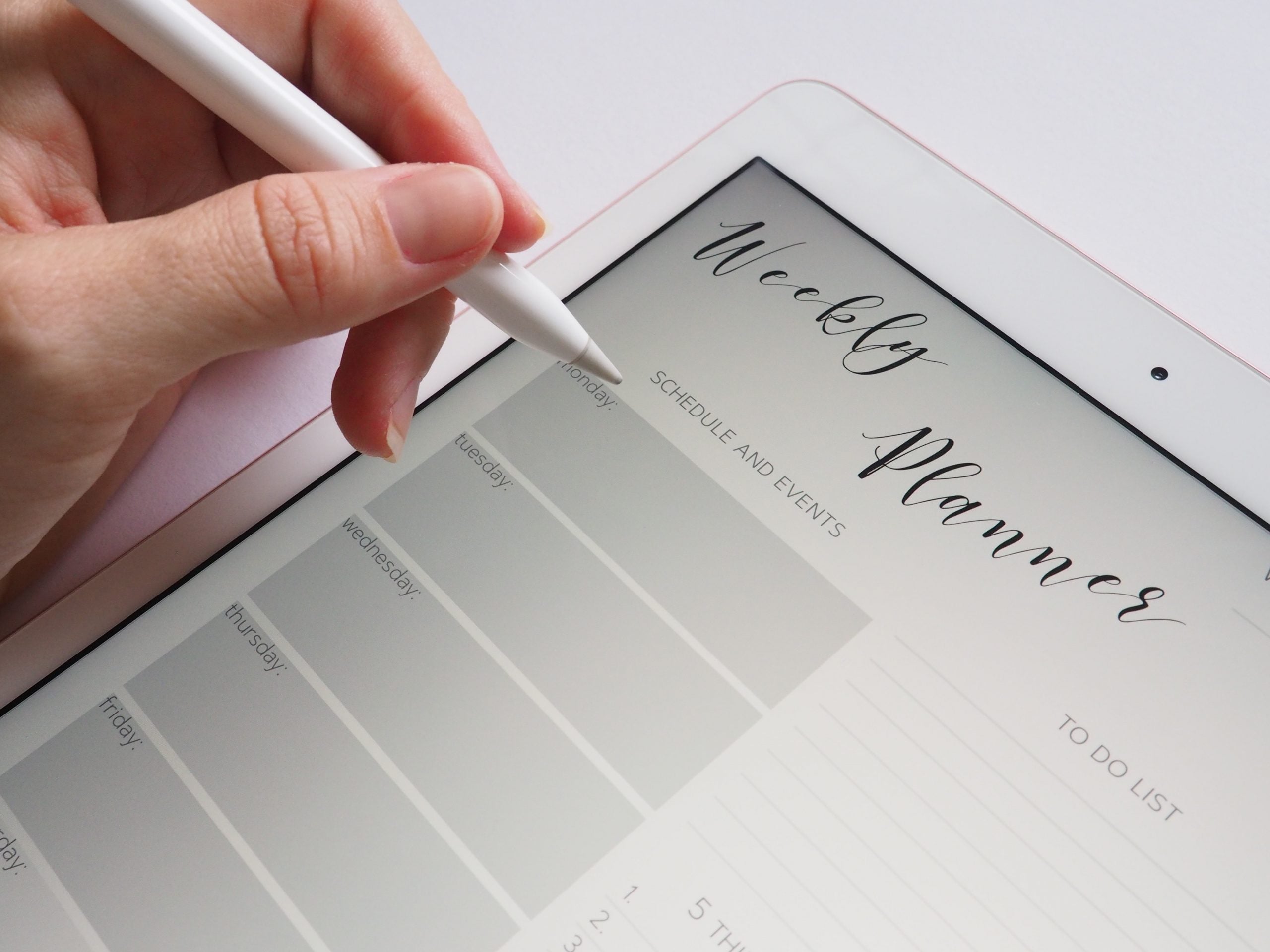 If you're accustomed to using your iPad for casual internet browsing or Netflix binging, you might be surprised to find that you can organize your entire life from your iPad. Even for those of us that love planning, with thousands of apps available at our fingertips, it can be hard to know where to start and how to spend your time.
Here are 10 ways to use your iPad to stay organized.
Daily Planning
Of course, we have to begin with daily planning but since most of us are planner geeks around here, I'm sure you won't mind. Using a simple template like a to do list planner or an undated planner are easy ways to get started with planning. Plus, going digital with your planning is both great for the environment and allows you to always keep your planner with you when you're on the go.
Editing Videos
Whether you're a YouTuber or just love playing around on Instagram and TikTok, you can easily edit all sorts of videos from your iPad. If you're not familiar with it, LumaFusion is a great editing software that you can get for $30. If you have your eye on more expensive options like Adobe Premiere or Final Cut Pro, this is a great (and more affordable) option. This is especially ideal if you are editing short videos and have a few minutes to kill when you're out running errands.
Workout or Meal Planning
If you're still using paper meal plans and workout templates that you are always losing, then boy do we have a treat for you, sister. Going digital with your workout and meal plans will make your life so much simpler. While you can always create your own, I find that having a template like the Health and Wellness Planner will save you so much time. You can easily create your customized workout plan, and since it's digital you never have to worry about leaving it at home when you're at the gym.
Journaling
For most of us, journaling is one of those activities that we do from time to time but know that we should be doing it more. Am I right? What I love about digital journaling is that you can literally do it anywhere with your iPad and you can stop searching around your whole house for that cute paper journal that you bought last year but can't find. Also, if you go to Intelligent Change and sign up with your email, you can even get a copy of the 5 Minute Journal template that you can use right on your iPad.
Clock and Timer
Another great tool for your iPad is using either clock or timer apps. If you're looking for something streamlined and also aesthetically pleasing, make sure to check out Zen Flip Clock. This app also has a timer feature so if you need to time a specific task or only have a certain amount of time to work on something, this can keep you focused, productive, and on track. It's also completely silent so you never have to get distracted.
Vision Boards
When you need a quick dose of inspiration, it's amazing to have a digital vision board that you can always refer back to. For example, if you are working hard to create your dream home, having a vision board while you're out shopping for furniture or decor, being able to see your inspiration at a moment's notice can be a lifesaver towards creating the ambiance that you're looking for. Plus, the more you refer back to your vision boards, the more these ideas will become cemented into your mind, helping you to continually work and step closer to your dreams.
Notion
If you're new to Notion, it's an amazing app that can help you create lists, track your goals and overall plan out your life. You can also use it for both work and personal use if you like keeping everything in one place. If you're looking for a step by step guide, you can even check out this video on how to organize your life in Notion.
Reading Journal
Using a reading journal is a great way to create your own reading lists, customize your own digital bookshelf or even review books digitally. By going digital with your reading life, you can simplify and house everything directly in your reading journal. Plus, if you'd love to read more, having fun tracking systems like a reading journal can also boost your motivation to read more!
Drawing
Procreate is a fun $10 app that you can use to draw pretty much anything directly on your iPad. You might be surprised by everything that you can do from fun diy wall art to even creating your own bookmarks or coming up with fun graphics to use on Instagram. If you're looking for a fun, creative outlet, this is it! Plus, since it's all digital you never have to worry about spending lots of money on supplies, making a mess, or wasting anything.
Project Management
If you're a busy career woman with a side hustle or outside projects, you need some sort of project management system in your life. With an app like Trello or Asana you can organize any sort of project, whether it's coordinating with other team members, planning out Instagram sponsorships, or preparing to launch your own online store. If you're used to keeping everything in your brain, a system like this will help you to get everything written down. And since it's digital you can make updates or changes regardless of where you're located.
As a bonus, if you're a visual learner, check out these tips in video form, with a couple of extra tips thrown in!
Disclosure: Some of the links below are affiliate links. This means that, at zero cost to you, I will earn an affiliate commission if you click through the link and finalize a purchase.