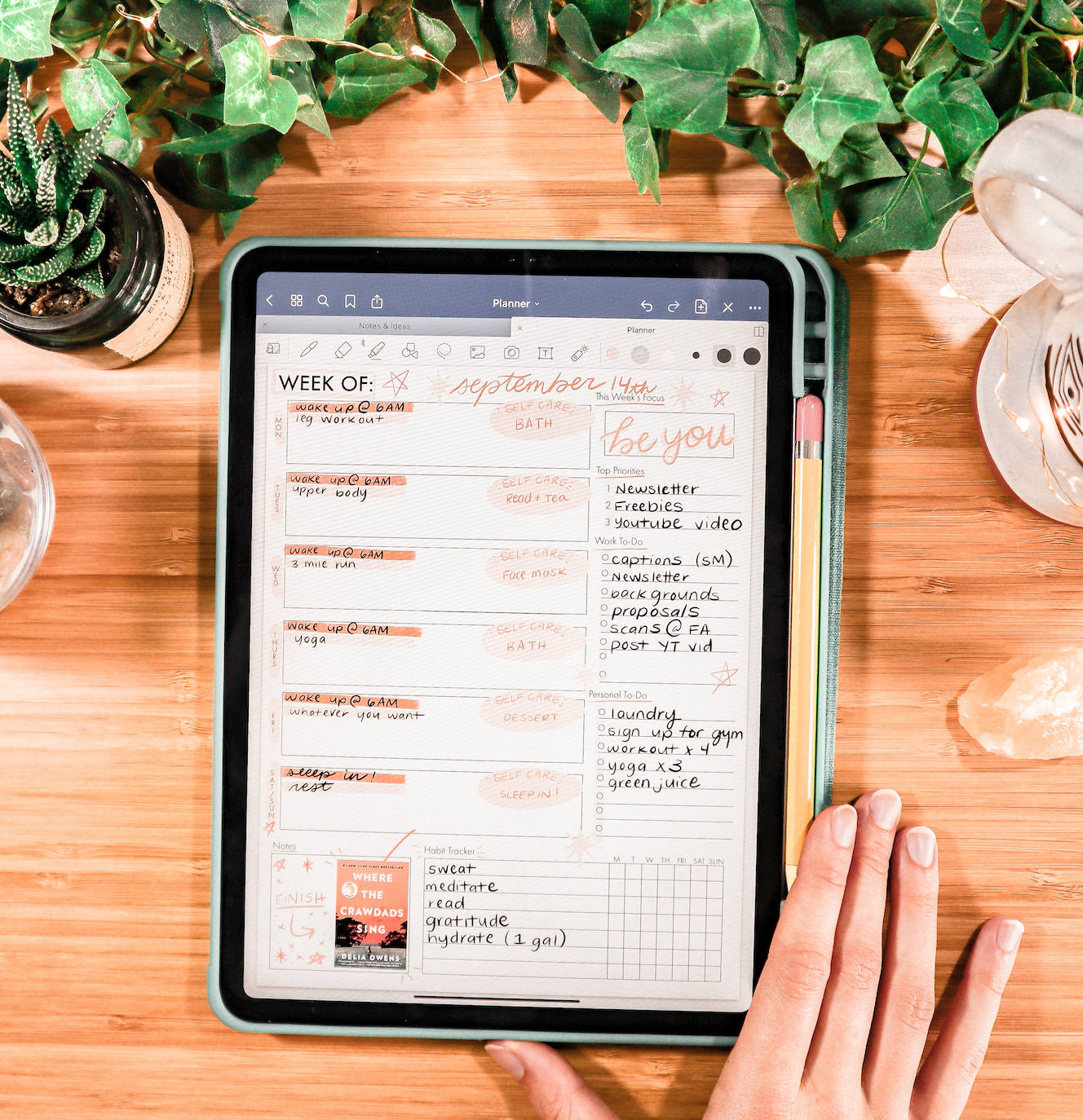 How to Use a Digital Planner on the iPad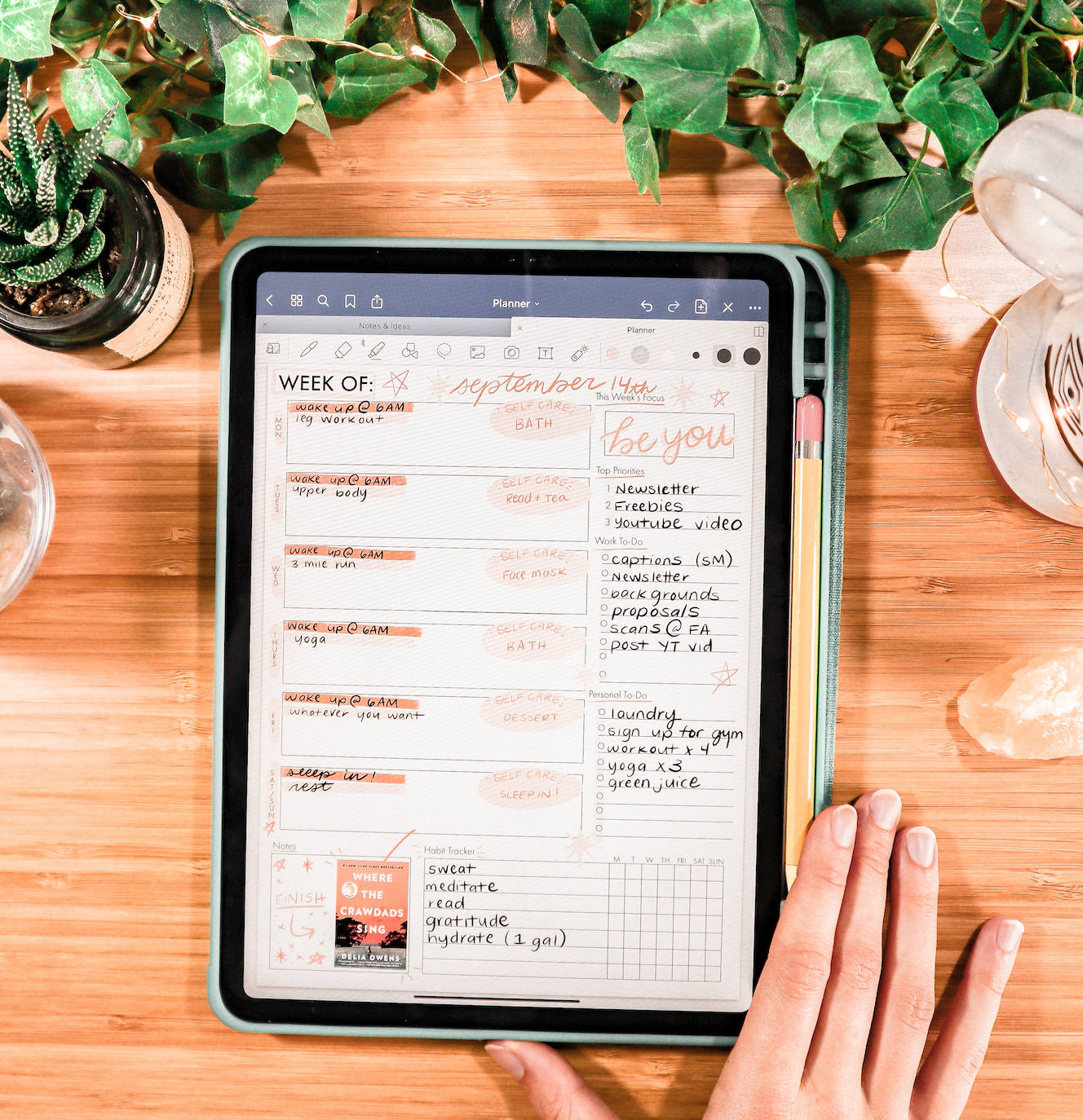 Digital planning is the NEW way to plan out your days, weeks, and months. When you plan digitally you save money, paper, and unnecessary clutter (like a lot of unnecessary clutter). When I started planning on my iPad Pro in Goodnotes, I was overwhelmed by all the options that were available for digital planning. Where do you even begin? Well, I'm here to tell you that it is super easy to get the hang of. You won't catch me buying a paper planner ever again.
Why might you ask?
Digital planning is sustainable. NO WASTE.
Planning on your iPad frees up space taken up by paper planners and notebooks.
Goodnotes and Procreate are extremely helpful tools that will make your planning a breeze.
Also I just love how customizable digital planning is. It is so easy to create aesthetically pleasing planner pages and set up your week for success. It takes a little getting used to but I promise it is so worth it. Using a digital planner will make your life SO much easier.
So how do I plan out my weeks?
Step 1
I always start off my planning sessions with a good playlist in the background. I really believe in setting the mood before you start planning out your goals. Goal setting can be stressful sometimes. You start thinking of everything you want to get and get so overwhelmed you might burst (can you relate?). So I like to play Spotify, light a candle, and get to digital planning.
Step 2
Acquire a digital planner. There are THOUSANDS of digital planners on Etsy. Like literally thousands. I am obviously going to recommend the ones I make and sell on my shop, because what kind of business owner would I be if I didn't? But I genuinely do love the digital planners I have made so much. They are super minimalist, easy to use, and aesthetically pleasing. They leave room for you to add your own colors and digital stickers to completely make it your own aesthetic.
I use mine every single day. I also offer a free routine planner pack on my website and planner packs that are just .99 cents if you want to try out digital planning for hella cheap.
Step 3
You are going to need a third party app to digitally plan (I know, I know, there are a lot of steps, but bear with me). In order to actually draw or type on your PDF planner file, you are going to need an app like Goodnotes 5 or Notability. Both of these are completely free and easy to use. All you have to do is upload your digital planner and you can start to draw or type.
If you want to see EXACTLY how I plan out my weeks, watch my YouTube Video: "HOW TO DIGITALLY PLAN ON THE IPAD PRO 2020 | Digital plan with me using Procreate and Goodnotes 5" This video will show you step by step how I plan my goals for the week, how I set up my habit tracker, and exactly how I use Procreate and Goodnotes.
Step 3.5
If you don't have the technology needed to digitally plan DO NOT FRET IT. I will not have you buying wasteful paper planners because you don't have the newest tech, NOT ON MY WATCH! You can always print your digital planner and use it that way. PRO TIP: You can buy my single planning page for just .99 cents, take it to a Staples and have them laminate it for CHEAP, then write on it with expo marker. BOOM! A planner that you can reuse over and over again for just under a couple dollars.
Step 4
START DIGITALLY PLANNING! You can use your iPad, Macbook, or iPhone to digitally plan. This is the fun part. This is where you can take your creativity and bring it up to the next level! I digitally plan in Procreate, a digital drawing app for the iPad Pro, because I am extra and I like to use all the features that come with the app. But you can use whatever you are most comfortable in.
Once you start digitally planning, I guarantee you will not want to go back. Paper planners are cancelled, ladies! They use tons of unnecessary paper and plastic that is extremely harmful to mother earth. We can't keep buying them! But we can digitally plan, reach our goals, and flourish.