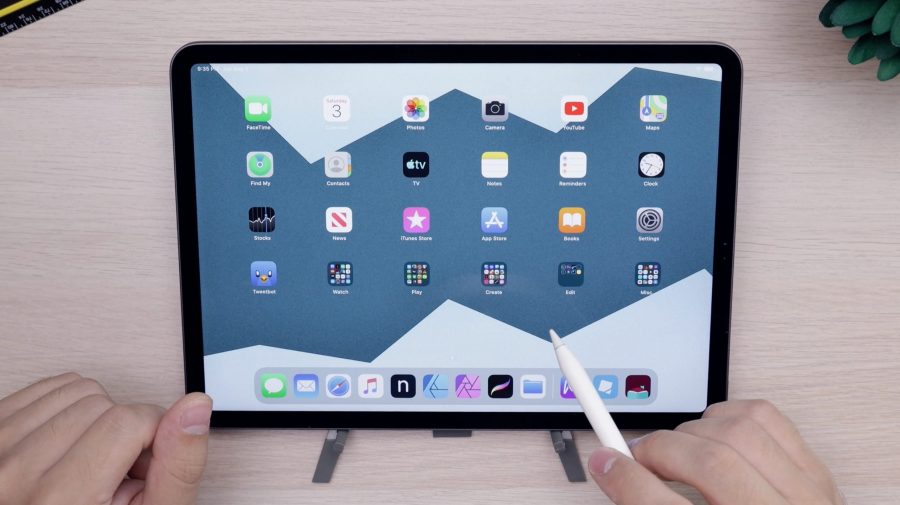 What's on my iPad 2022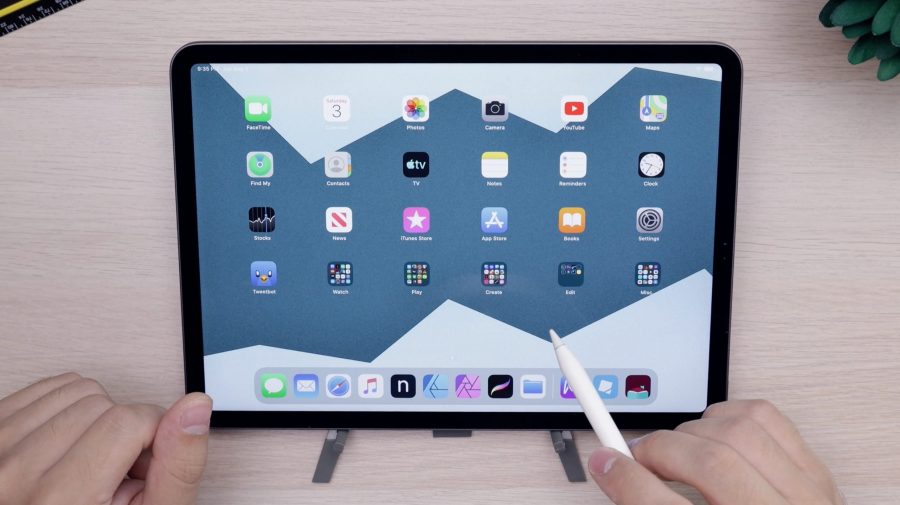 Do you ever feel just a little bit nosy, wanting to know what apps your friends or favorite influencers are using? If so, you'll love today's post where we do a deep dive into everything on my iPad. We'll start out with what you can find on my home screen and then we'll move on to my various folders from games, food, business, entertainment, and more. And just for reference, I'm using the 12.9-inch iPad Pro.
Let's get into it!
As you're reading this post, feel free to follow along with the video, in case you want to visually see all of the apps that I'm referencing or want extra details!
Homescreen (most-used apps)
Starting off, I use a gradient wallpaper from Pinterest and if you like my style, you can find free wallpapers over on my website. All of the widgets you can see are just photo widgets using the widgetsmith app and then I just upload a Pinterest photo to them.
You can see more about how I do that in the videos, Customize Your iPad and 2022 Prep. Or, on my TikTok as well.
First up, I have three shortcuts for the planners that I use most and I use digital planners using the Goodnotes app.
The first shortcut is my 2022 planner. It's a typical yearly planner.
The next is my weekly dashboard which is the perfect way to plan out your week. You can also see this in the video called my Sunday reset vlog.
Then, my third shortcut is for my vision boards so that I can easily access them when I need a little dose of inspiration.
Goodnotes: I love using Goodnotes and it's definitely my favorite notetaking app.
Spotify: This is the app I use to listen to all of my music.
Canva: is a design app. You can easily use this to lay out your Instagram feed and brainstorm ideas. Canva is great for any graphics that you might need to make and it's so user-friendly even if you have zero design experience.
Pinterest: is great for inspiration for anything that you're doing, whether you're a creator or looking to re-do your home office.
Procreate: is a drawing app for the iPad and it's my personal favorite, it's $10. I also have a beginner's guide to procreate video if you are interested in checking that out.
Flipclock: This is the aesthetic-looking clock that you might see on my social media or YouTube videos!
Behance: This app is like Pinterest for graphic design. Beautiful graphics and fonts and gradients.
Notion: is an all-in-one notetaking and planning app. You can also check out my video all about Notion here.
Spark: is an email app that organizes your emails and it puts all of the newsletters in one so I can easily bulk delete them.
Now, we'll move on to some other categories. Most of these apps are pretty self-explanatory but if you're interested in learning more about the app or want to try it out yourself, you can click the links below.
Utility Apps
MD clock: This is another clock app.
Game Apps
Food Apps
Mixel: A cocktail recipe app I use.
Entertainment Apps
Creative Apps
Photoshop Express: This is very easy to use and has less of a learning curve than the normal version of Photoshop.
Photoshop: Very convenient to have when you are on the go.
Adobe Fresco: A digital drawing and painting app, similar to procreate but more robust.
Skillshare: This is a great resource if you're looking to learn how to draw, do hand lettering, etc. or learn almost any skill.
Adobe Lightroom: A photo editing app and you can also create your own presets and filters.
Business Apps
Trello: Great for creating lists or while doing project work.
Etsy: The perfect way to support other creators!
Pexels: A stock photos app.
Zoom: Perfect when you need to hop on a call on the go.
Keynote: Apple's version of PowerPoint.
Notabiity: I use this for notetaking and digital planning.
Unsplash: Another good stock photo app.
Book Apps
Libby: A great way to order books digitally from your local library.
Books: Apple's app for online books.
Goodreads: Track the books that you've read and are currently reading.
Shopping Apps
Apps I want to try
I love Hue: This is a color game like a puzzle.
Stoic: Created by writer Ryan Holiday who wrote the book "The Daily Stoic" and many others.
Blinkist: Short summaries of books.
Post it: Great for brainstorming, especially if you're a student or work on a team.
Co-Star: A fun astrology app.
Intelligent Change: This is the company that creates the 5-minute journal.
A Few Others:
Apple Fitness: Good choices for workouts.
Instagram: Having the app on your iPad can be good for drawing on your Instagram story.
What about you? What is currently on your iPad?